Top Video Games For Your iPhone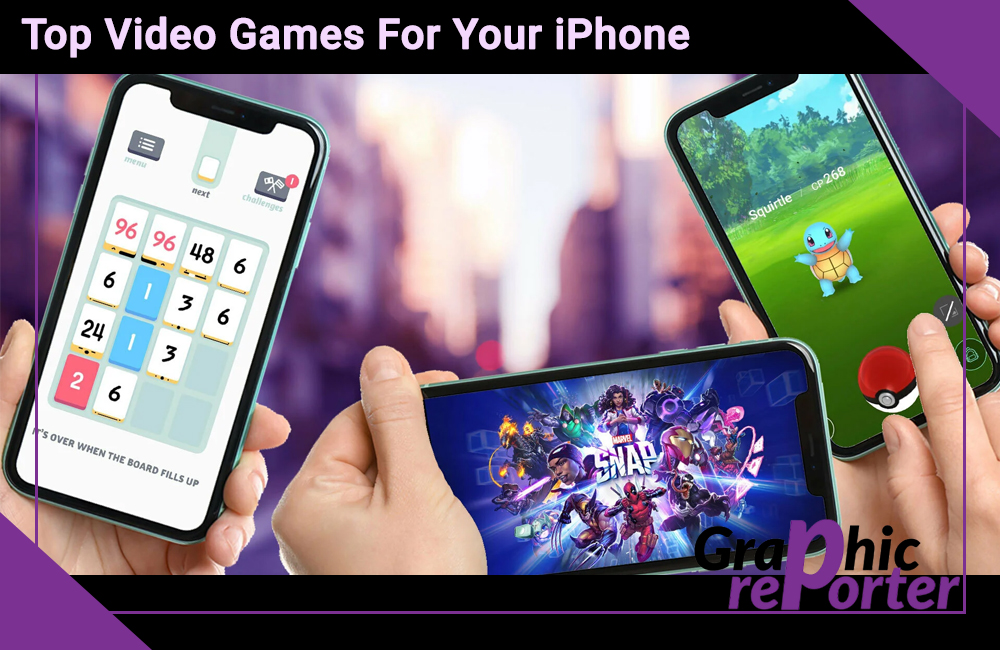 With the ever-growing popularity of mobile gaming, the iPhone App Store offers a vast selection of games for you to choose from.
Along with the countless video games for iPhone, online casino games have become increasingly popular among iPhone users for promising entertainment and a chance to win real money.
Here is a list of the available genres.
Action games

Family games 

Strategy games

Simulation games

Role-playing games

Racing games
Action Games
Action games are action and fast-paced games. They typically involve players controlling characters who must fight enemies, overcome obstacles, or complete missions using various strategies, weapons, and abilities. 
Top Action Games for iPhone Users
Call of Duty: Mobile: A first-person shooter game set in the Call of Duty universe, featuring a variety of modes, weapons, and maps.
Fortnite: A battle royale game where players drop onto an island and fight to be the last person or team standing.
PUBG Mobile: Another battle royale game where players parachute onto an island and scavenge for weapons and supplies while avoiding danger and eliminating other players.
Family Games
They are typically non-violent and feature gameplay that is easy to pick up and understand but still provides a fun and engaging experience. Family games can take many forms, including puzzle games, strategy games, card games, party games, and more. 
Top 3 Family Games for your iPhone
Mario Kart Tour:  A colorful and fast-paced kart racing game that features iconic characters from the Mario franchise.
Overcooked!:  A cooperative cooking game where players must work together to prepare meals under pressure.
Heads Up!: A fun party game where you hold your phone up to your forehead and try to guess the word or phrase based on your friends' clues.
Strategy Games
A strategy game is a video game that challenges the player's ability to make decisions and plan. It requires players to manage resources, build structures, and make choices that will impact the game's outcome. 
Best Strategy Games for iPhone Users
Civilization VI: A turn-based strategy game where you must lead your society from ancient times to the modern era, making choices that shape the course of history.
Clash of Clans: A strategy game where you must build and defend your village, train troops, and attack other players to earn resources and gain territory.
Age of Empires: World Domination: A real-time game set in the Age of Empires universe, where you must build up your civilization, gather resources, and battle other civilizations to become the dominant power.
Simulation Games
Simulation games aim to recreate real-world systems and situations, allowing players to experience and experiment with these systems in a virtual environment. 
Top Simulation Games for iPhone Users
The Sims Mobile: A life simulation game where you create and manage a virtual person, building their home, making friends, and guiding their career and personal life.
Flight Pilot Simulator 3D Free: A flight simulation game where you control various aircraft and complete missions, navigating challenging weather conditions and terrains.
Role-playing Games (RPG)
These games offer rich and immersive storylines, customizable characters, and intricate worlds players can explore and interact with. They allow players to immerse themselves in a fantasy world and take on a new identity.
Top RPG For iPhone Users
Star Wars: Knights of the Old Republic: An action RPG set in the Star Wars universe, where you can choose your path, interact with memorable characters, and wield the power of the Force.
Final Fantasy XV Pocket Edition: A retelling of the main game, Final Fantasy XV, with improved graphics and a simplified battle system optimized for mobile devices.
Racing Games
These games offer fast-paced and exciting gameplay, whether you prefer arcade-style racing or a more realistic simulation experience. They feature stunning graphics, a variety of cars and tracks, and competitive multiplayer modes that allow players to race against friends and other players from around the world. 
Examples of Racing Games
Asphalt 9: Legends: A high-speed arcade racing game with stunning graphics featuring a variety of cars, tracks, and modes.
Real Racing 3: This racing game has very life and an extensive roster of cars, as well as tracks and events from the real world.