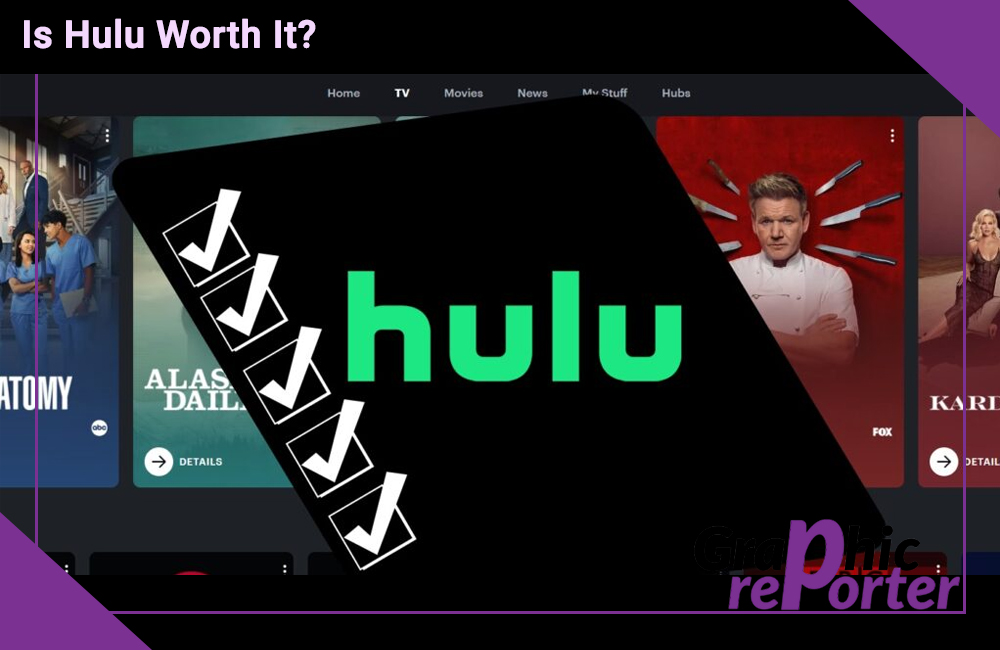 The number of online streaming sites is increasing every day. While it's a good thing to have multiple options, it makes it difficult to choose the best one of all. 
One streaming service that has become quite popular is Hulu. It not only offers movies and TV shows, but it also gives you access to Live TV channels. Like most other quality streaming services, Hulu is a paid service. You need to be a Hulu member to stream the content available on the site.
Those who haven't used Hulu before might wonder if the site is worth it. Well, that's a legit question to ask as no one would want to waste their hard-earned money.
If you are eager to know more about Hulu and its services, this post is for you. We have included everything you need to know about the streaming service in the below post.
Hulu Overview
Hulu is a US-based online streaming service that offers both on-demand content and Live TV channels. This premium streaming platform is owned by Comcast and The Walt Disney Company. 
Hulu started its operation in 2008, and since then it has grown to become one of the top streaming services online. Unfortunately, Hulu is not available in all locations. It provides service in the United States and Japan only.
Initially, the platform offered a small collection of TV shows and movies for free. Back then the business was supported by ad revenue. In 2016, they converted the platform into a subscription-based service. However, Hulu is different from other streaming services like Amazon Prime, and Netflix. 
Firstly, it focuses on offering the latest series and original content to viewers. Secondly, it uploads new episodes of TV series from multiple networks.
In recent times, Hulu has started focusing more on original content. It launched award-winning series like The Act, The Handmaid's Tale, and The Looming Tower.
Aside from Hulu Originals, it also gives access to Live TV channels. This is how it stays ahead of its competitors. It allows you to watch live sports and news from channels like Turner Networks, 21st Century Fox, CBS Corporation, Discovery Networks, and others.
Overall, Hulu is an excellent streaming service. It offers access to a huge load of content at a very reasonable cost per month.
How Hulu works?
Hulu operates the way other streaming platforms work. To stream content on Hulu, you need to buy a monthly or yearly subscription plan. Opting for the latter helps you save a good amount of money.
After buying the subscription, you can sign into your user account from the device you want. Hulu can be accessed from a laptop, mobile phone, TV, and other devices. Once you sign in, you can access all the available movies and TV shows.
Nowadays, many smart TVs come pre-installed with Hulu. If not, then you can download the app from the TV store.
The advantage of using Hulu is that it gives access to TV channels as well. Along with TV shows and movies, you can also watch live news and sports. This is one of the major reasons why so many people are ditching their cable TV and shifting to Hulu.
List of Platforms Supported By Hulu
One of the many good things about Hulu is that it supports all the major platforms. All you have to do is sign into your Hulu account and stream the content you like. To give you a better idea, we have provided the list of devices supported by Hulu.
Here you go with the list:
Chromecast

Web

iOS

Android

LG TV

Nintendo Switch

Roku TV

Apple TV (4th gen)

Firestick and Fire TV

Xbox One & Xbox 360

Samsung smart TVs
Hulu Subscription Plans
Hulu offers two subscription plans. The first model is a basic plan and the second one is Hulu + Live TV. Both plans are priced reasonably, so you don't need to worry about spending a lot of money. We have broken down the subscription details in the lines below.
The basic plan costs $5.99 per month. It gives you access to all the content available on the site. This service is reasonable because it works on an ad-based model.
If you don't want to see ads, you will have to spend a few dollars extra. It offers an $11.99 per ad-free month plan. It also includes add-on options for Starz, Showtime, HBO, and Cinemax.
Hulu also offers a bundle subscription with ESPN and Disney Plus. Opting for this plan can save you up to 25%. If you do the calculation right, buying the bundle plan will cost you much lesser than subscribing to the platforms separately.
The second plan is Hulu + Live TV. This subscription plan is perfect for those wanting to switch from their cable service.
Hulu + Live TV services give you access to on-demand content as well as Live TV channels. As a result, you can watch movies, live sports, and news, all on the same platform. Instead, of paying for your cable service and Hulu separately, you can simply choose this plan.
The price of this plan is slightly high. It will cost you $54.99 per month. In return, you will get access to unlimited on-demand content and more than 60 TV channels. 
The interesting feature of the Live option is that it allows you to record your favorite videos for up to 50 hours. Along with that you also get access to multiple add-ons.
It also allows you to add more entertainment channels, screens, and even top-rated Spanish channels.
You can access Hulu directly on the web, via mobile apps, or smart TVs.
What is good about Hulu?
Hulu is one of the best premium streaming services out there. There are several reasons why users prefer Hulu over other streaming sites. If you are planning to subscribe to a new streaming service, you could choose Hulu.
The main benefits of using Hulu are:
Hulu offers its services at a very affordable rate. Compared to other major streaming platforms, Hulu is much cheaper. This makes it a popular choice among users.
Hulu focuses on providing newer shows and movies. It also has original content. At present, there is a huge collection of films and series on the platform.
Access to Live TV channels
This is one of the best features of Hulu. Along with on-demand content, it gives you access to live TV channels, including sports, news, and entertainment. 
Being a premium streaming service, it gives you high-quality content. All the videos on the site are in high resolution. So there's no way you will have to compromise on your viewing experience.
Compatible with a variety of devices
Users can access Hulu from almost any device they want. It is compatible with all the major platforms and operating systems.
Hulu gives you the option of add-ons and bundles. It allows you to stream content from other platforms and channels without subscribing to multiple programs and apps. Thus, it helps save a lot of money.
Are there any drawbacks?
Despite all the good things, there are a few things about Hulu that are objectionable. 
Hulu added the option to download content from the site in 2019. But this option is available only for iOS users. So unless you own an iPad or iPhone, you cannot use the download feature.
Before turning into a subscription-based model, Hulu used to be an ad-based streaming service. The basic plan includes frequent ads which can be frustrating to users. Despite paying $5.99 per month, users have to deal with ads.
It's a good thing that Hulu offers add-ons. But opting for these add-ons is expensive. Many users are not able to afford the add-ons due to the high price.
Should you subscribe to Hulu?
Like every other platform, Hulu has its fair share of pros and cons. After reading the above post, it is clear that Hulu's pros overshadow its cons. Anyone looking for an affordable streaming service can choose Hulu.
The best thing about Hulu is that it gives access to both live channels and on-demand content. It also includes bundle plans that help you save money on multiple streaming services.
If you are looking for a replacement for your cable service, Hulu could be a good choice. The Hulu + Live TV plan gives you access to over 60 channels. This will allow you to watch live news and sports on Hulu.
Final Words
To sum it up, Hulu is a top-level streaming service in today's time. It offers a good collection of movies and TV shows. It's an ideal streaming site for those who want to watch newer series. Unfortunately, this service is not available outside Japan and the US. If you live in any of these two countries, you can save a lot of money on streaming by choosing Hulu. Plus, it will give you the benefit of cable service.