Apple iOS 16.5.1 Update Introduces 21 New Emojis: Download, Copy & Paste on iPhone in 2023
The latest Apple update iOS 16.5.1 comes with a set of 21 new emojis, including some of the highly anticipated ones.
These emojis were introduced with the iOS 16.4 update back in March this year. At that time, emojis were available only in certain places. But with the launch of the iOS 16.5.1 update, the emojis are made available globally.
To know about the new emojis, you should give this article a read.
List Of iOS 16.5.1 New Emojis
In the iOS 16.5 update, Apple has introduced 21 fresh emojis. Among them are a smiling emoji, three heart emojis, two hand gestures, several foods, animals, and birds. The new emoji pack also includes faith and activity symbols.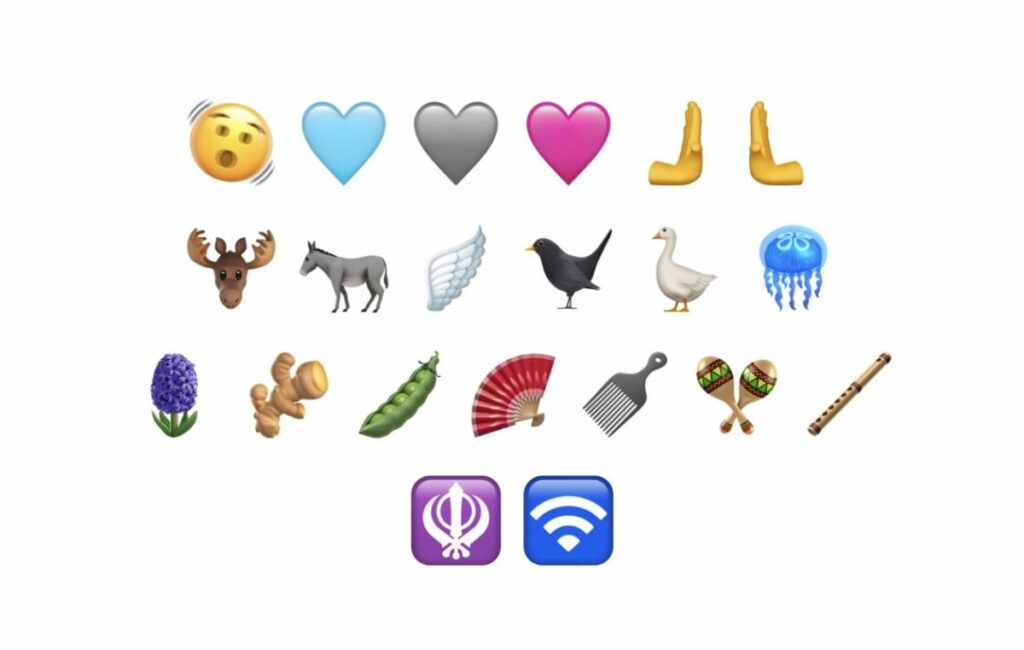 Here is a brief rundown of all the iOS 16.5.1 emojis:
A smile conveys a shaking motion from side to side. Users can use it to express external forces such as loud noises, or earthquakes. It can also be used for showing internal emotions like fear, shock, and confusion.
Users had long requested the pink heart emoji, and it is now finally included in the latest update.
This heart emoji comes in a new shade of light blue and represents love, warmth, or friendship.
Another addition to the heart emoji collection, the grey heart symbolizes the same sentiments as the previously available options.
This emoji showcases an open hand gesture with the palm facing right, implying a pushing motion in that direction.
Similar to the previous emoji, this one features an open hand gesture with the palm pushing to the left. Both hand gestures can be combined to symbolize pressing or holding something.
Displaying a full profile of a gray donkey, this emoji signifies the animal or can be used more generally.
A white wing with feathers pointing rightwards, this emoji can denote literal flight as well as metaphorical ideas related to freedom.
It depicts the face of a moose with large antlers. This emoji can be used to represent the animal as well as countries like Sweden and Canada where it holds cultural significance.
Depicting the hyacinth flower with its green stems and purple petals, this emoji represents the beauty of the plant.
This emoji showcases a cut-open pea pod revealing the peas inside, representing the vegetable.
It is an n emoji featuring a peach and red-colored hand fan.
It is a grey-colored hair pick, symbolizing the act of combing and self-grooming.
This emoji represents the bird or associated idioms.
It is presented as a bright blue-coloured jellyfish with a domed bell, and tentacles. This emoji captures the essence of the creature.
This emoji can represent a blackbird or convey a sense of something mysterious or ominous.
It represents the spice that is used all around the world.
This emoji represents the Khanda, an important symbol in Sikhism.
A lively addition to the emojis, this set of Maracas instruments features a vibrant motif.
Another musical instrument joining the emoji family is the flute, offering a way to express musical interests.
Representing a Wi-Fi connection, this emoji depicts the symbol associated with wireless technology.
To access these new emojis, you will have to get the latest version of iOS on your iPhone. You can download the latest software update from the Software Update section on your phone.
How To Get The Latest Apple Update?
If you are using iOS 16.5, you will have to update the software version to iOS 16.5.1 to get your hands on the 21 new emojis. Follow these steps to update your iPhone's software version.
Launch the Settings app on your phone.

Go to the General section.

Select the Software Update option.

Check if there's a new update available.

If yes, hit the Download button, and allow the update to install.

Follow the instructions shown on the screen to get done with the installation process.
Now that you have the latest iOS 16.5.1 update, you can use the new emojis on your phone.
It should be noted that the new emojis may vary across sources, but the total number is 21.
Upcoming iOS 17 Emojis
Apple iPhone users will be happy to know that they will get more emojis with the upcoming iOS 17 update. Some of the emojis that are likely to be introduced with the upcoming software update are:
People emojis

Brown mushroom

Head-sharing horizontally

Head-shaking vertically

Phoenix bird

Broken chain

Gender natural family emojis
iOS 17 update will also include custom emoji stickers. It will allow users to create personalized stickers using the photos saved in their phone's gallery. To access these new features, you will have to update your phone's software to iOS 17.
Final Words
iOS 16.5.1 update's collection of emojis has got iPhone users excited. Now they have access to more emojis and can use them while texting. It should be noted that these emojis are not meant to be used for promotional purposes. Rather it is used while chatting.