How To Delete Your Amazon Account Permanently [100% Working]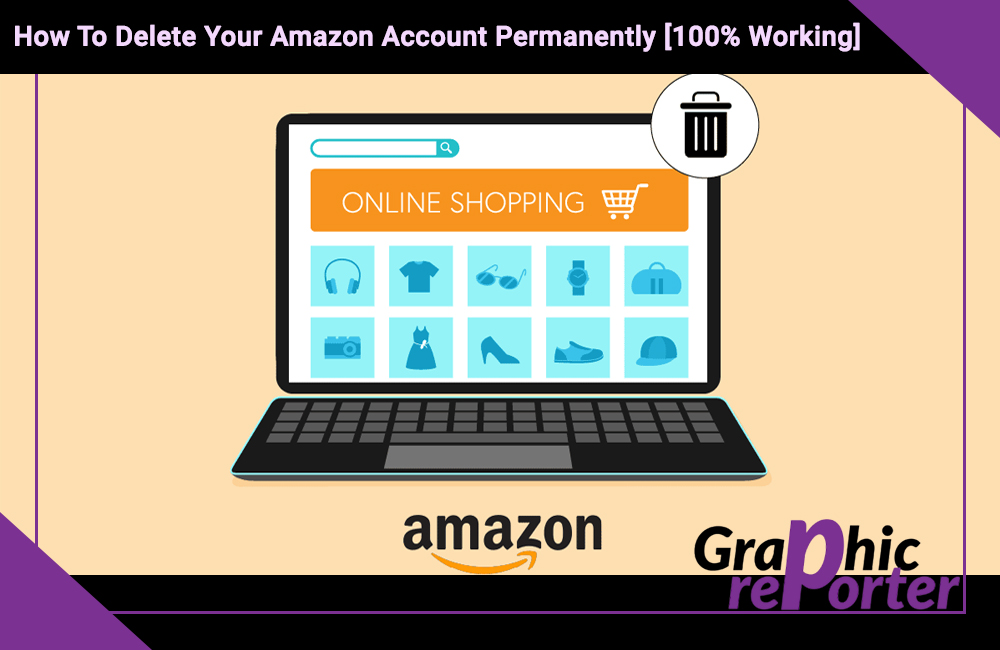 When it comes to a website where we can purchase anything, watch movies, and listen to music then there is only one website that comes into our mind and that is Amazon. By taking a single ID on Amazon you cannot only purchase on Amazon but also can watch movies and web series data available on amazon prime, and listen to the music that is available on Amazon music.
By taking the Amazon prime ID you will get your orders as soon as possible by them. Not only that but also if anything is a prime product then you will not be charged for its delivery, it does not matter if the product is priced below 500 words or above 500 bucks. With the same id, you can watch movies and web series which are available on prime video absolutely for free.
And the same Amazon ID can be used to listen to the music on prime music, and enjoy all the features like playing the music by downloading it in the offline mode. And there are a lot of features that you can enjoy by taking an Amazon prime membership.
The cost of prime membership is very low, as it charges 129 rupees per month only. Now we will see how we can delete the Amazon account. After that in this article, we will see what happens when anyone deletes their Amazon account.
How to delete Amazon account Permanently
Well, here we are going to see how we can delete our Amazon account. Before going into the steps by which we can do so, see something that anyone should know before doing so.
So if anyone deletes their Amazon account then they will lose access to amazon.com and as well as on the international stores of Amazon-like amazon.co.uk and not only that they will also lose access to audible.com with that particular ID.
By deleting the Amazon account devil deleted your account's purchase history e and the customer that are they have so if you have posted any reviews and photos to the Amazon website then it will be erased.
Let us now move to the way by which we can delete the Amazon account permanently. following are the steps that you must follow to delete your Amazon account permanently.
First of all, you need to go to the Amazon Website
Then you need to log into Amazon by clicking on the sign it button and entering your email address and password.
Before deleting the account permanently you must make sure that you do not have any orders pending and if you do have then you need to cancel the pending orders by clicking on orders near to the top right corner of amazon's home page.
Then you need to click on help which is at the bottom right of the page.
after clicking on that you need to click on need more help button which is at the bottom of the page.
Then click on contact us which is on the top right side of the browse help topics section.
In the new page, you need to click on prime or something else button which is at the top right corner of "what we can help you with?" section in the "contact us" page on the screen.
After doing so click on please make a section button which is is a box in the bottom of the screen.
After clicking on that click on login and security which will pop up like options.
Click on the second option, please make a selection field which is below the first one. Clicking on the second box we will get a drop-down menu and then you will have to click on it.
Click on the close my account option which will be the second option from the dropdown menu.
By doing that you will get three options below with the contact options like email phone or chat.
Click owner contact option from the three options given.
If you click on the email address then you have to type in a reason for deleting your account and then clicking on send email button below the email field.
And, if you choose phone option then you have to type in your phone number in the spaces provided there. And after that, you need to click on call me now option.
But if somehow you choose the chat button option then you will have to wait for a customer service representative to come online at then you will have to talk to them and tell them you would like to close your Amazon account.
After doing so you will have to wait for some time so that your account may get deleted.
By following the steps given above you can delete your Amazon prime Amazon account via email or phone or the chat option given and described above.
What happens if someone deletes their Amazon account?
If you download your Amazon account then there are some services that will no longer work after deletion. A user will also lose access to the digital content that they had. following are some things that will change after the deletion of the Amazon account.
First of all, a user will lose access to all their Amazon accounts including the audible.com and international websites like amazon.co.uk and amazon.de
A user will not be able to return or refund any items that they have ordered by that Amazon account
A user will lose access to all the digital content that was linked with that account like Amazon apps, prime videos, prime music, Kindle ebooks.
If a user had put their reviews or posts, then after deletion, they all will be removed.
All the Amazon gift cards and other vouchers will not be accessible.
all the reviews and the photos of a product that I used head put it as a review will be deleted from the website.
These were things that will occur when someone deletes their Amazon prime account.
FAQ ( Frequently Asked Questions )
Well after reading all the things given above there is some question that arises in the mind of people who do want to delete Amazon accounts. Following are some question that has been described in detail which has been asked by the users of Amazon.
Can I have the access to gift vouchers operating my Amazon account?
No one who to delete their Amazon account permanently has not access to all the gift vouchers that they had in their account. So as we have discussed above you need to use first that Amazon gift voucher then deletes your account.
What happens to all the reviews that we give?
All the reviews that have been given on the Amazon account will be deleted by Amazon as we delete our Amazon account permanently. Show all the photos of the purchased items that have been uploaded by a user on Amazon will be deleted.
Do I have access to the ordered items?
No one will not have access to the ordered items after deleting their account. Suppose if you have purchased something on Amazon then after deleting the Amazon account you will not be able to cancel that particular product. You will have to take it. And anything that has been purchased by you will not be refunded.
Last words
So in this article, we have seen what an Amazon account is. We got to know that Amazon has a different kind of there ID and login instruction. We also have seen that we cannot delete our Amazon account in a simple manner.
We have to go through a long process by which we can delete our account either by email or by our phone number or by the SMS service which is is quite lengthy.
Then we answered some questions that have been asked by users like you. If you have any queries or questions related to the topic of how to delete your Amazon account then do let us know in the comment section. We will try to solve and answer each of them as soon as possible. Thank you for reading this article.