MiniTool MovieMaker 6.1.0: Best Video Editing Software For Beginners
With the rise of digital media and the increasing demand for high-quality content, having the ability to edit videos has become essential. Good video editing software is of utmost importance for beginners in the field, as it provides them with a versatile tool to bring their creativity to life.
With robust video editing software, beginners can experiment with various techniques, enhance the visual appeal of their footage, and tell compelling stories to the world. Additionally, a user-friendly interface and intuitive controls make it easier for beginners to handle the software efficiently.
One of the best beginner-friendly video editing software is MiniTool MovieMaker 6.1.0. It offers a range of features and functionality and empowers beginners to express their creativity. If you are intrigued to know more about this amazing video editor, read the post below.
MiniTool MovieMaker 6.1.0 Overview
Developed by MiniTool Software Ltd, MiniTool MovieMaker 6.1.0 is one of the best video editing software for beginners as well as professionals. It is a free video editing tool that allows users to make high-quality videos quickly.
This software is particularly developed for the Windows platform and packs a wide range of features and editing tools. Despite being free software, it is free of ads, watermarks, and bundles. Plus, it is safe to use.
With the intuitive interface users can create attractive and high-quality videos easily. It gives you the power to enhance your videos and turn them into a piece of art. The available resources are regularly updated to keep them in line with the current trends and to ensure that your videos stand out among the rest.
1. User-Friendly Interface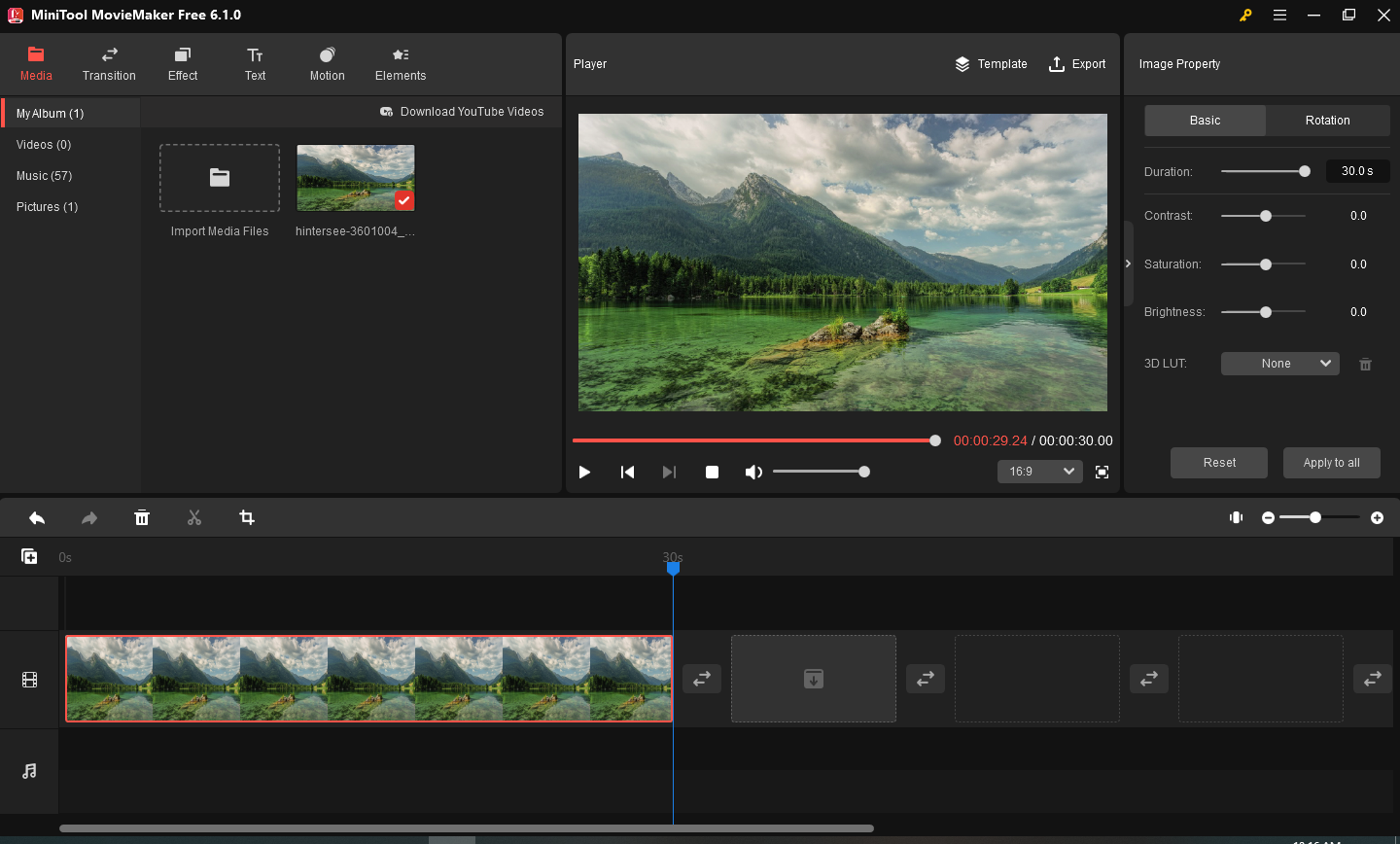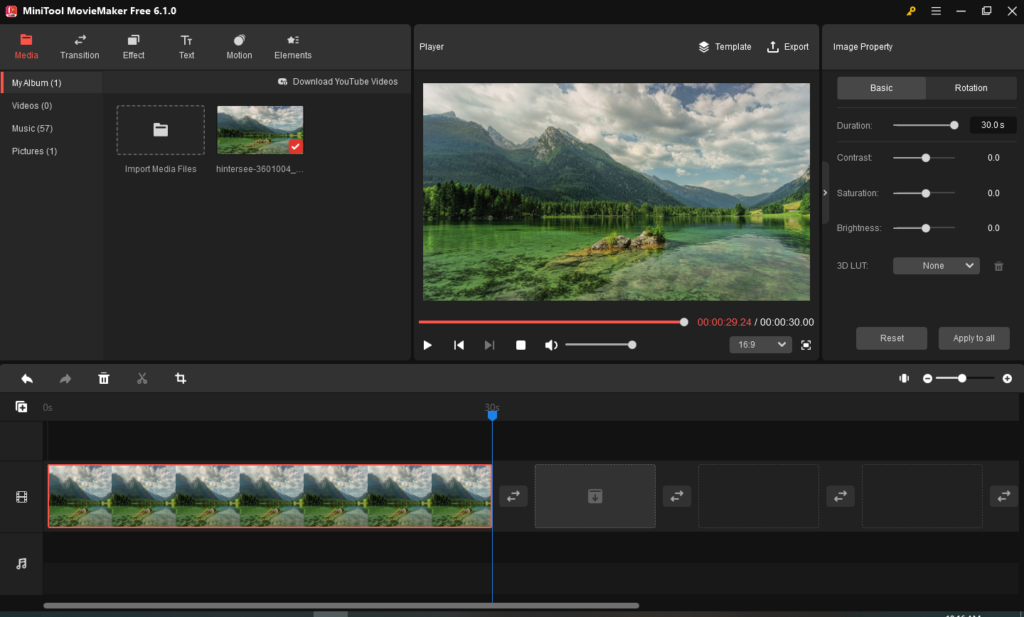 MiniTool MovieMaker 6.1.0 stands out as a user-friendly video editor because of its clean and intuitive design and interface. It allows users to effortlessly browse clips in the Media view by simply hovering the cursor over them.
The three-pane video-editing layout features the preview window at the top right, the source content at the top left, and a timeline stretching across the bottom of the screen.
The interface is thoughtfully organized, ensuring that all tools are easily accessible, resulting in an enhanced user experience.
2. Vast Media Library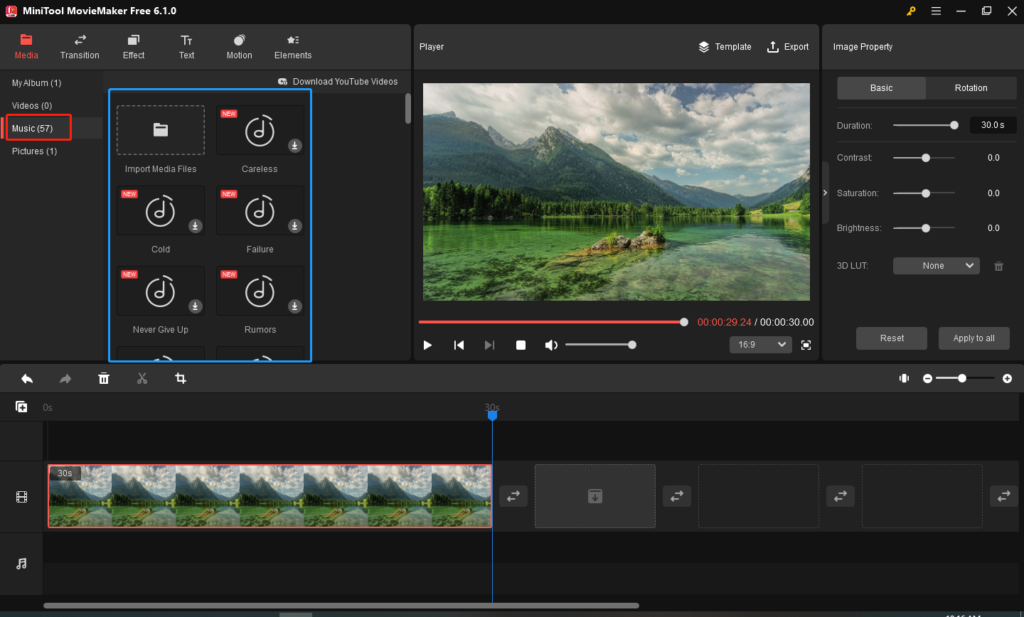 The media library allows for the efficient organization of assets. Upon importing various media elements such as music, photos, and video files, they are conveniently stored in the "My Album" section.
Additionally, you can locate your media files in dedicated folders such as Pictures, Music, and Videos.
To simplify your workflow, MiniTool MovieMaker 6.1.0 has a selection of in-built soundtracks. You have the option to apply these preloaded tracks or utilize your audio files as background music for your videos.
This feature aims to simplify your creative process and provide greater flexibility in customizing your video's audio.
3. Support For Various Media Formats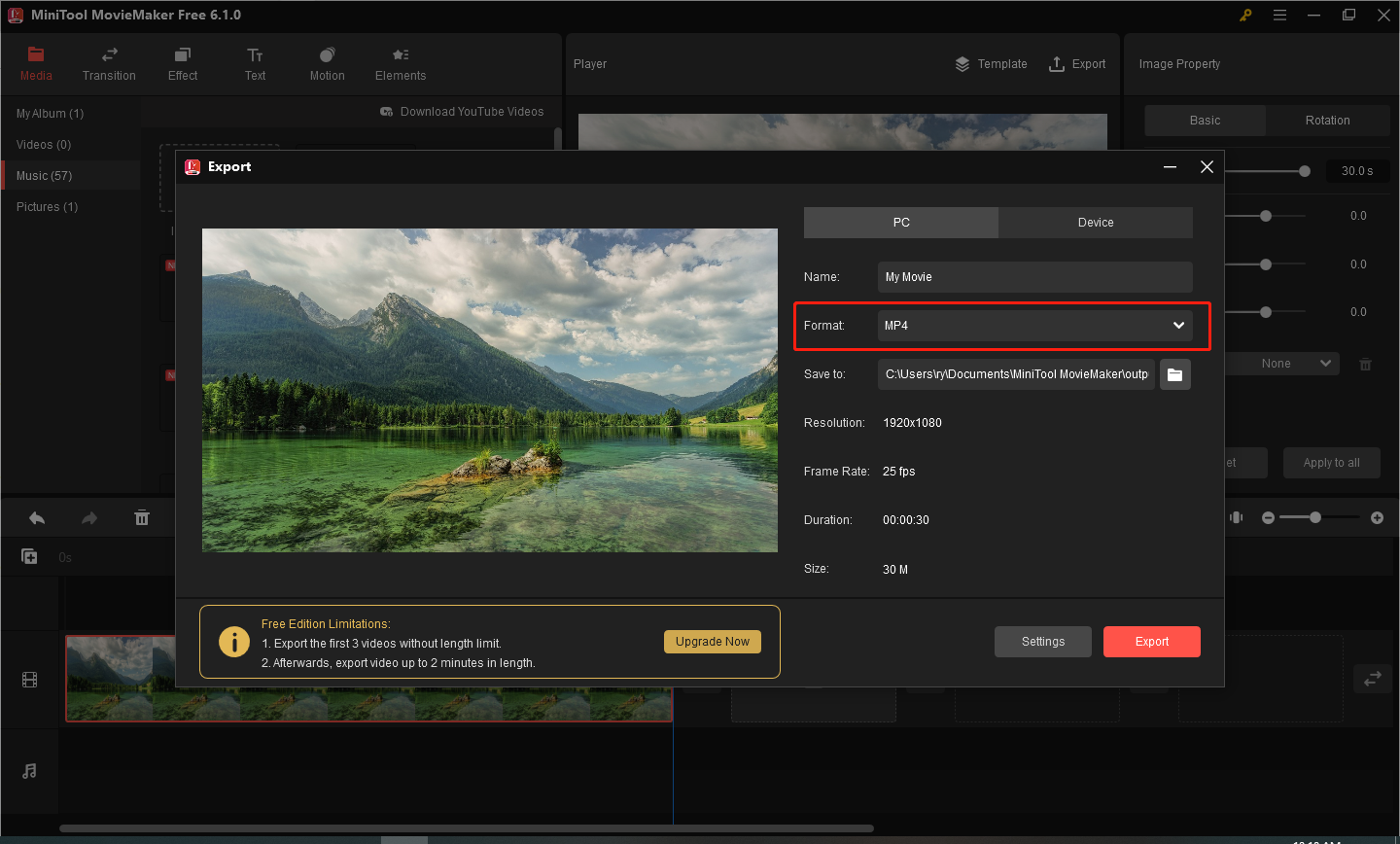 MiniTool MovieMaker 6.1.0 offers comprehensive support for a variety of image, audio, and video formats. Once you have completed your editing tasks, you can export your final project in various video formats. It supports popular media formats that are compatible with most media players.
Here is the list of different types of media files supported by the software:
Video: MOV, MP4, TS, AVI, RMVB, 3GP, WEBM, WMV, FLV, MKV, MPEG, VOB,
Audio: WAV, APE, MP3, AAC, M4R, M4A, AMR
Image: ICO, PNG, JPEG, BMP, JPG, GIF
As you can see, MiniTool MovieMaker boasts an extensive range of supported media formats. Regardless of your selection, you can save your video in various video formats or export it directly to some other device.
It also allows you to adjust the export settings as per your requirement. For example, you can change the name of the video, choose a storage location, select a desired video format, and adjust the video's quality, bitrate, and resolution.
4. Effects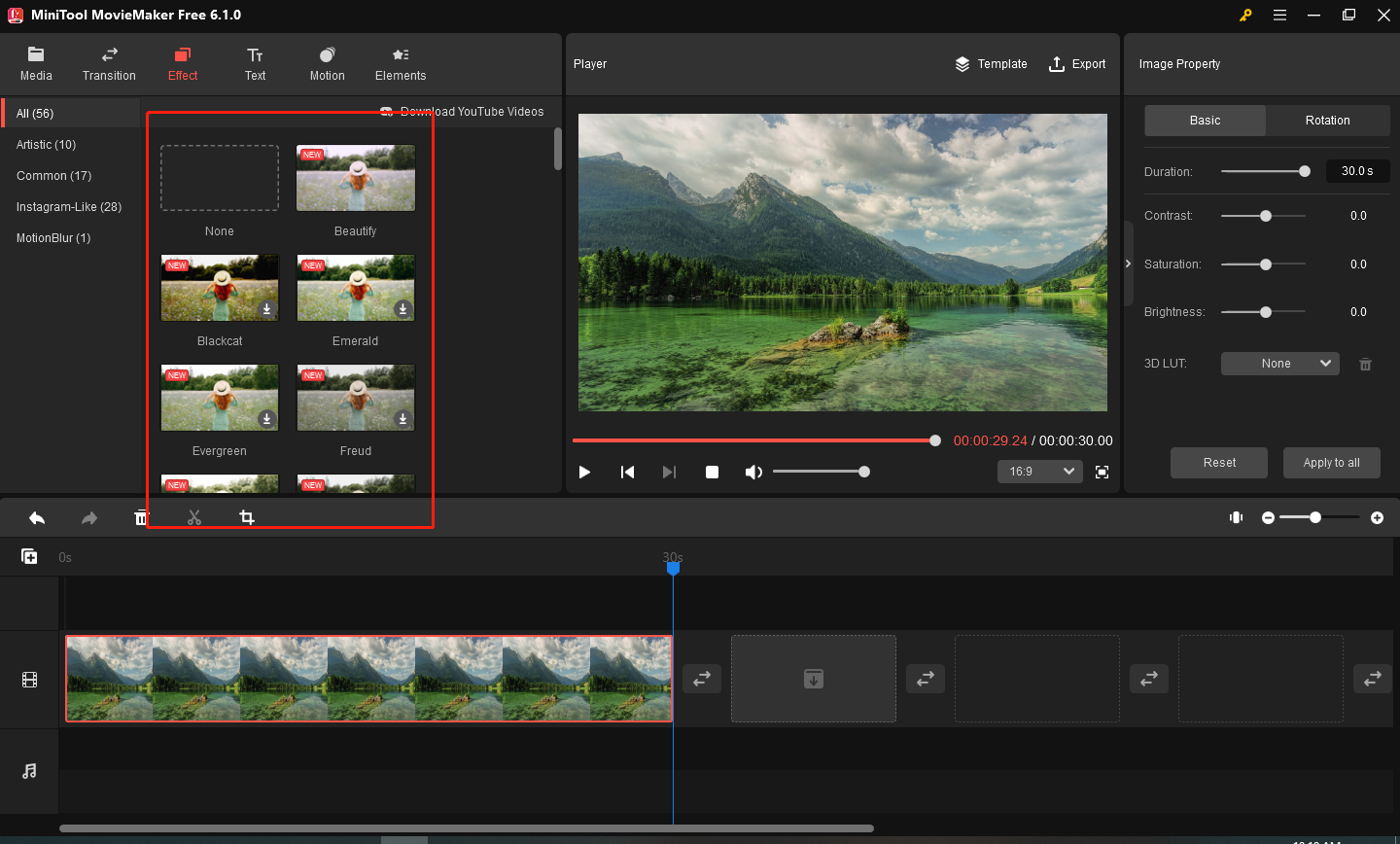 With over 50+ filters, MiniTool MovieMaker 6.1.0 offers a diverse selection of looks to enhance your videos and images. To preview the effects, all you need to do is hover the cursor over the filters and apply the filters in the preview window.
Other than these effects, it also gives you access to color correction tools that allows you to adjust saturation, brightness, and contrast. Furthermore, you can apply 3D LUT effects to enhance the visual appeal of your video.
Adding captivating effects to your video using MiniTool MovieMaker is a straightforward process. Simply navigate to the Effect tab, browse through the available options, and once you find the desired effect, drag and drop it onto the specific video and you are done.
5. Motion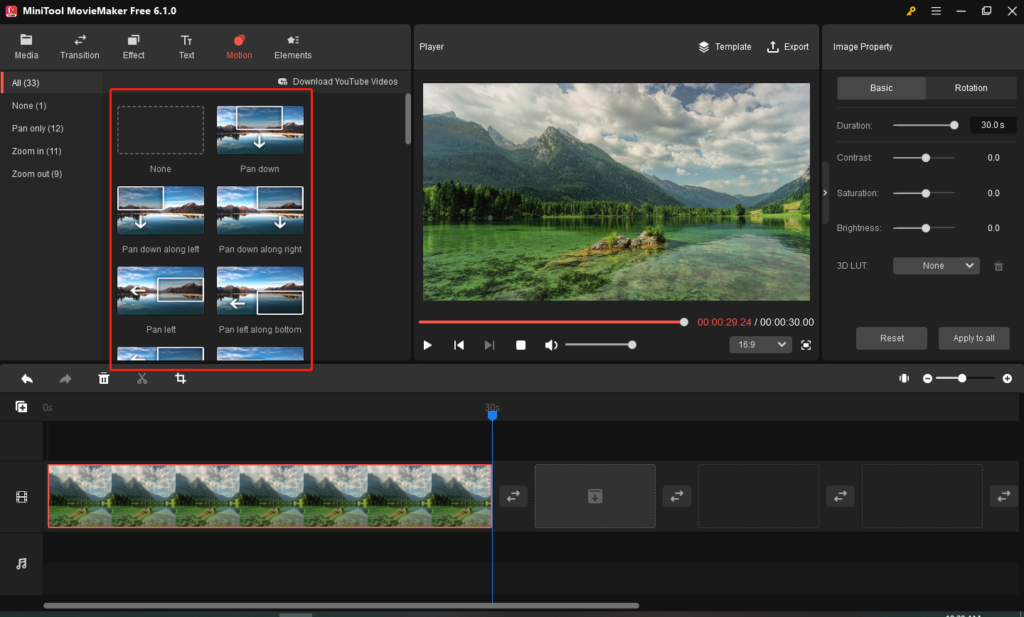 With MiniTool MovieMaker you can effortlessly apply motion effects to your clips. The Pan and Zoom effect is a popular technique that is used to add visual interest.
It offers a wide selection of over 30 motion options, including Pan up, Pan down, Zoom out center, Zoom in left, and many more. Just click on the Motion tab, and then on the "+" icon to apply the desired motion effect to your video.
6. Text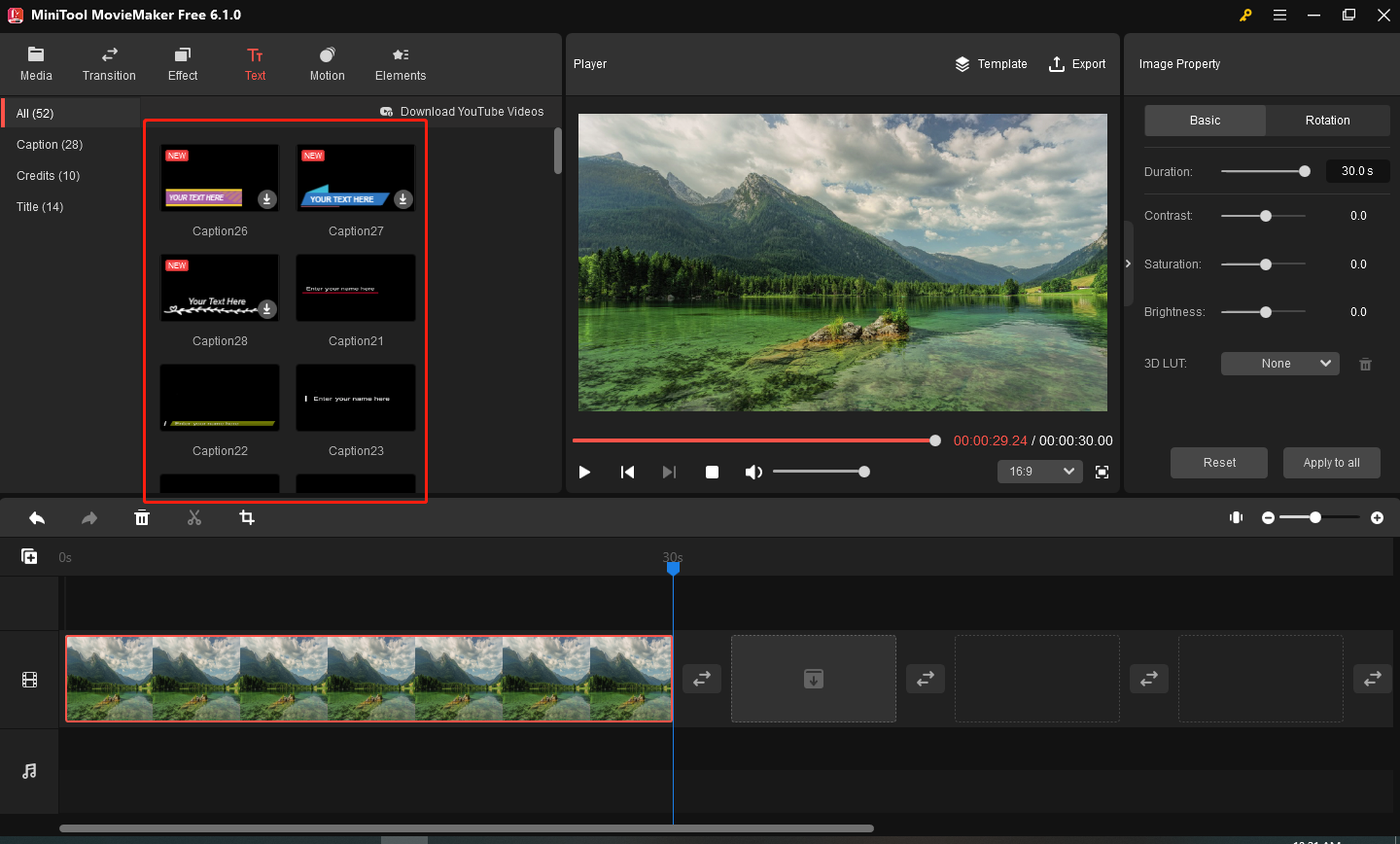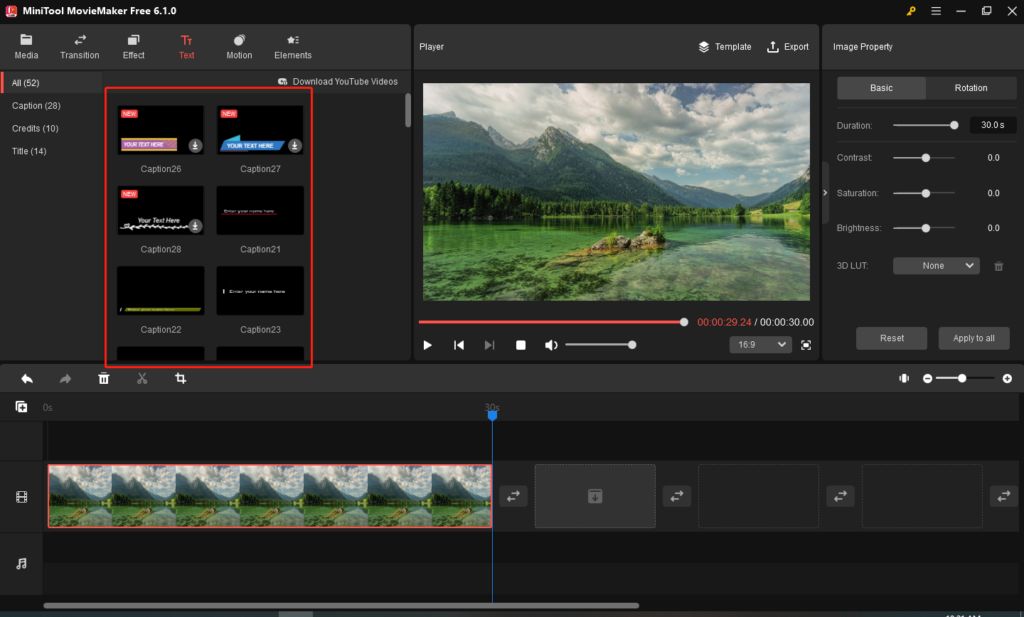 MiniTool MovieMaker 6.1.0 allows you to add credits, titles, and captions to your videos. It offers a wide range of title options.
Plus, it allows you to customize the font style, color, size, alignment, and opacity of the text without any difficulty.
Go to the Text tab, select a text style of your choice, and add it to your video.
Final Words
Overall, MiniTool MovieMaker 6.1.0 is a great video editor. It is packed with all the necessary features that you would want in video editing software. With this tool, you can easily enhance your video quality and bring your creative vision to life.