How to Add Minutes on a Tracfone Phone Number In 2023 [100% Working]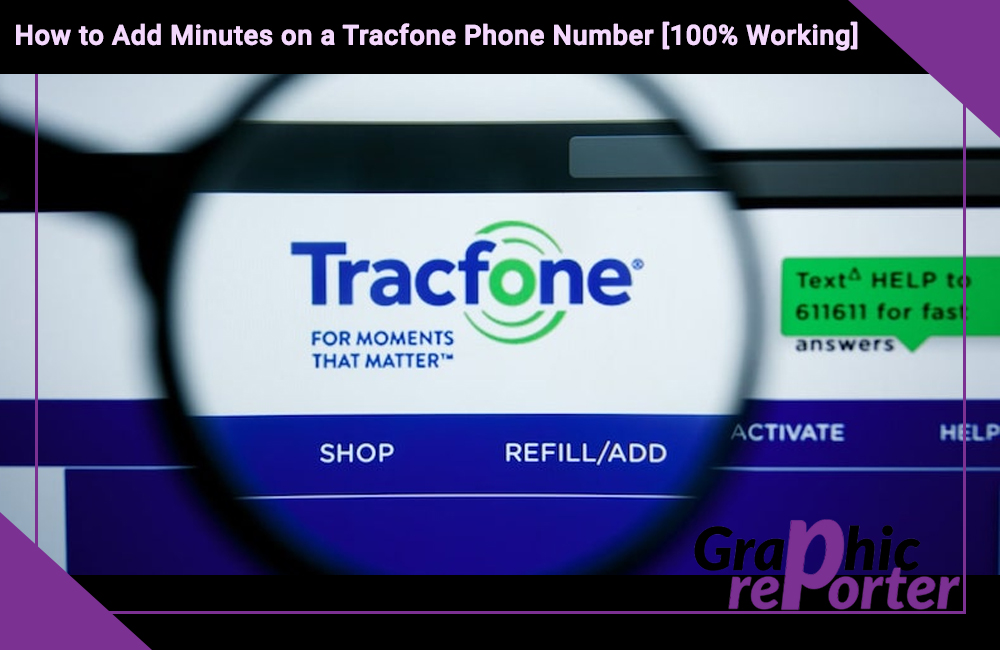 In this article, we will be sharing with you all How to Add Minutes on a Tracfone Phone Number, how to check a new balance after adding TracFone minutes, the benefits of TracFone add-on minutes, and a lot more. Keep reading further to enlighten yourself.
TracFone is the most popular prepaid wireless provider in the United States. The company is known to offer high-quality phones, nationwide coverage for all 4 major carriers – AT&T, Verizon, Sprint, etc.
The company does not make it mandatory for the customers to sign any contracts. You get cheap monthly plans as well as add-on cards.
How to Add Minutes on a TracFone Phone Number
If you are looking for the Process To Add Minutes On A TracFone, then here is a complete guide to help you out with the same. One can easily refill their plans using an Add-on card. You can get an add-on card according to the service you want. So, if you want you can get a Data only card or a Text only card or a Talk add-on card.
If you are looking to add minutes on a TracFone phone number, then you can buy a talk add-on card. These talk add-on cards are available for both smartphones and feature phones. However, the Data add-on card and the text-add-on cards are available only for Smartphones.
Read Also – Best TracFone Phones for Seniors
The minutes you get on a talk add-on card depend on the price of the card. The higher the price, the more talk minutes you get. If you buy a $10 Talk Add-on card, you will get 500 minutes to add on to a smartphone. But this would be just 100 minutes for a basic feature phone.
After choosing the add-on card, you can refill TracFone Pay As You Go plan. If you do not know how to do so, then don't worry. Simply follow the below guide.
Before You Refill Your Pay As You Go Tracfone Minutes Plan
First of all, go to

www.tracfone.com

.

Now choose the Pay As You Go plan you want to buy and then select 'Add to cart.

Now enter your Email ID, and other details asked, and then choose a method of payment to continue.

Once the transaction is completed, you will get a TracFone Wireless refill PIN on your email. Along with that, you will also receive instructions on how to activate it and refill your plan.
If you want to buy a physical card at the store, then simply scratch off the silver area on the back in order to reveal the Airtime PIN number. After you have received the refill PIN, you can activate your TracFone airtime PIN in 3 ways.
Refilling your Pay As You Go plan with a phone call
You will be surprised to know that you can refill your TracFone with just a phone call. You can easily activate the Airtime PIN and refill plan by dialing the free recharge number – 1-800-867-7183. 
Once you call the number, you will be given a few instructions. Simply follow them to activate the PIN. You will soon be informed about the new balanced along with the validity. Just note that if you are adding airtime over the phone calls, you need to have a payment method at your hand like a credit card.
Refilling your Pay As You Go plan on your phone
Switch on your TracFone device. See that you have a network signal or else this method will not work. Now activate your PIN. Then refill your TracFone plan using the below steps –
First of all, tap on 'Menu'. Then go to the 'Prepaid' option.

Here, scroll down and select 'Redeem Airtime'.

Now enter your Airtime 15-digit PIN Number which you can find on the card or your email inbox. Then hit the enter option.

Now you will receive a notification that says "Units will be added shortly".
You will soon receive the units on your TracFone balance. If you get a message to restart your device, do so.
Refilling your Pay As You Go plan online
If you want to refill your plan online, then you can visit the official TracFone.com website and there click on the 'Add Airtime' option present at the top right corner of the page.
Now tap on the 'Add to Cart option and then fill in the Phone number, airtime PIN, promo code if you have any. After that, hit the submit button, and you are done here.
How to add a No Contract Monthly TracFone Minutes Plan
Not only can you add minutes by buying an Airtime card, but you can also add a No Contract Monthly Plan so as to keep the services active on your TracFone. For this, you will have to follow the below steps –
Visit the official TracFone website. 

Then tap on the 'Refill/Add' option on the page and choose 'Refill'. Then from the drop-down menu, tap on 'Monthly Value Plans'.

Next, look for the plan you want and simply add it.

Make the payment and check out.
After Adding Minutes On TracFone How To Check The New Balance
If you have added additional airtime to the TracFone plan and now want to check the new balance then you will need to if the PIN activation was successful. There are 2 ways using which you can check a new balance after adding minutes on TracFone.
Check New Balance after adding minutes on TracFone through Customer Care–
You can call the TracFone customer support service at 1-800-867-7183 and get updates on your new balance through the way they mentioned. You will thus get the information about the new balance.
Check New Balance after adding minutes on TracFone through the TracFone website –
Simply visit the official TracFone website. On this page, go to the 'Check Balance' section. Then, enter your phone number and the last 4 digits of the serial number. You will be shown the remaining airtime and the expiry date of the same. If you want, you can also refill it here.
Advantages Of Using A TracFone Wireless Network And Service
TracFone wireless provider is the largest of all communication providers and also very preferred because of its services and networks and other benefits. We have mentioned some of the benefits given below.
TracFone does not apply any hidden charges nor any roaming charges.

TracFone does not make it compulsory for users to make any contract.

You can get TracFone minute cards to refill your calling minutes.

There is a number of promotional codes that you can use to get TracFone service at a lower cost.

TracFone is known to have the largest digit cover in the United States.

You get both GSM and CDMA service through TracFone and also nationwide coverage for all the 4 widespread networks like Sprint, Verizon, AT&T, T-Mobile.

You get calling features like call waiting, caller ID, Voicemail, cheap roaming, 3-way calling, and so on.

TracFone offers a rollover feature through which the remaining minutes are automatically rolled to the next term of the service before the days of service expire.
How To Change Your TracFone Plans?
TracFone plans are of a prepaid nature and thus you can change the plan any time you want. There are various types of prepaid plans from which you can choose.
It is also possible to change plans online through the official TracFone website. You can do this by visiting the store as well. You can also buy a TracFone airtime minutes card. For this, you will not be required to deactivate the previous plan.
Where To Buy TracFone Airtime Minutes Card?
You can buy a TracFone Airtime Minutes card on the official TracFone website in the add-on section. Before you select the add-on, you will have to choose if you are using a smartphone or a feature phone.
Then enter your phone number. You can then select the add-on according to your needs. You can also buy a TracFone Airtime minutes card from the store.
FAQs
1. What is TracFone free min?
TracFone free min is nothing but TracFone free minutes. TracFone has various promo codes using which you customers can get rewards in the form of extra talk minutes. These are added to the existing plan of the customer.
Such rewarded talk minutes can vary from 20 minutes to 300 minutes. You can use coupon codes to get TracFone free minutes.
2. How many talk minutes do you get from the Add-on Card?
The talk minutes that you get from Add-on depend on how much you pay for the card. If you have got cheaper cards, you will get lesser talk minutes. The more expensive the card, the more talk minutes you get. Generally, a $10 add-on card will offer 500 additional talk minutes.
3. What is a TracFone Airtime Card and a Text Only Card?
TracFone Airtime Card is a way to get extra talk minutes on your TracFone. And as the name suggests, the Text Only Card will give you only additional text messages. You can use any or both of these cards to get extra airtime/talk minutes or text messages besides your current plan.
4. What number does you text to add minutes to Tracfone?
If you are completely new to using a Tracfone and you are wondering how to add minutes to it, we'd recommend that you text the word ACTIVATE to 611611. However, if you wish to add airtime to your Tracfone, you'd have to text ADD to 611611 here. 
5. How do I add minutes to my Tracfone phone?
If you aren't comfortable or sure about the texting process to avail extra minutes on your Tracfone, another way to get the same is by directly calling 1-800-867-7183. This will redirect you to the options where you can add minutes to your Tracfone but the user has to make their payments via a debit or credit card for that.
6. Can I add minutes to Tracfone after expiration?
If the Unlimited talk and text plan on your Tracfone has expired, you can always renew it with another Unlimited talk and text plan. The process of activation is simple. You can text them at 611611 or you can sort out the same from their website using their Chatbot. You can also use their app for the activation.
7. How do I text my TracFone balance?
If you want to know your airtime balance on your Tracfone and you aren't sure how to, we'd recommend that you directly send a message with the text Balance and then send it to 611611. This will redirect you to the airtime balance and validity.
8. How do I add service days to my Tracfone?
There are multiple days to add service days to your Tracfone. The easiest would be via texting them at 611611. But, if that's not accessible for you, the other options include their app or their website's chatbot. The latter works very efficiently.
Concluding Words
I hope you all could easily understand How to Add Minutes on a Tracfone Phone Number. In case you have stuck anywhere or have any more questions, do let us know in the comment section below. We will get back to you as soon as possible.
Keep visiting us for more such helpful articles.