In this article, we will be sharing with you all How to Get Free Internet at Home without Paying. Internet is a necessity today especially when the COVID 19 Pandemic has made the entire world shift online. Today, schools, colleges, and even many offices are following the Work from Home way of lifestyle.
Hence the need for the internet is now more than ever. But not everyone can afford the internet and thus this creates a digital divide among people. For those of you who do not digital divide is the difference or gap between the people who can and cannot access the internet and other digital services.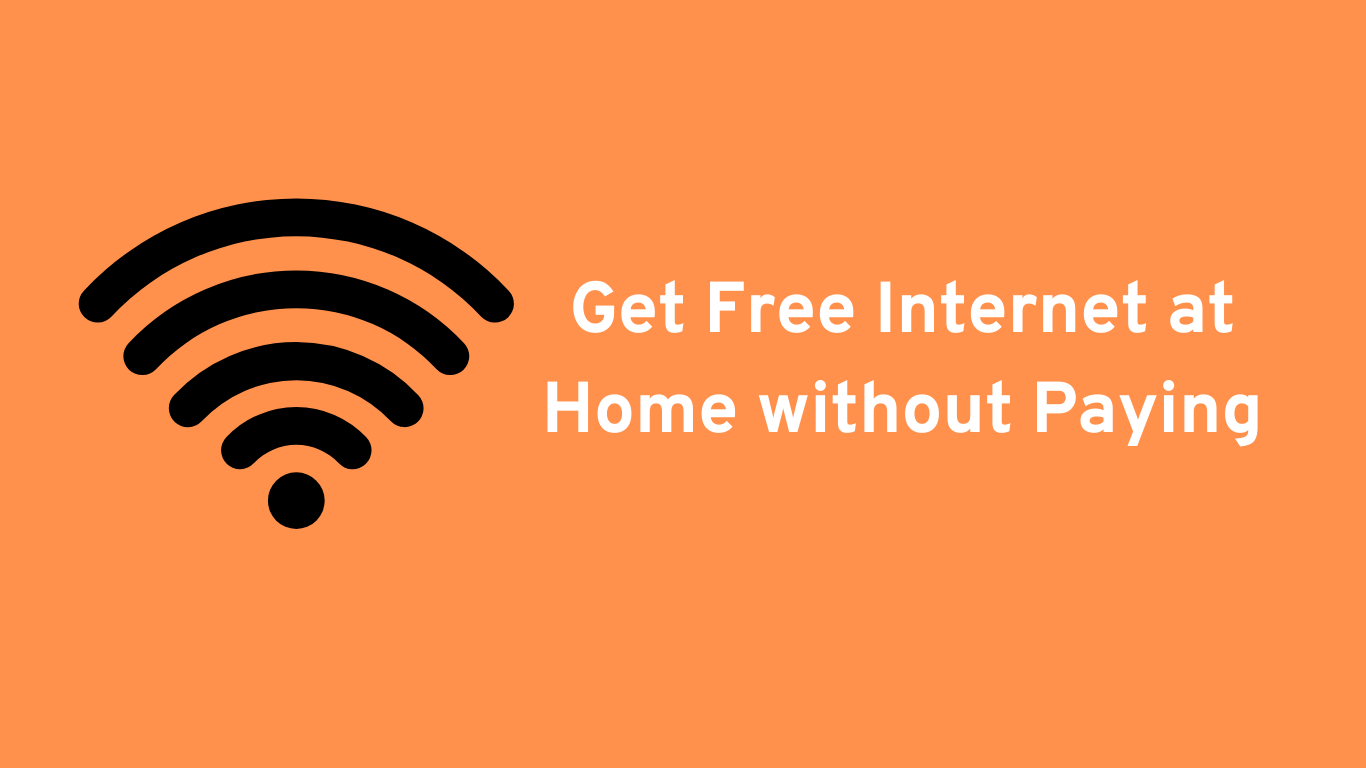 Indeed, no one should be abstained from using the internet only because they cannot afford it. Hence, here we are sharing with you all some of the ways using which you can Get Free Internet at Home without Paying. So what are you still waiting for? Keep reading further to know more.
Is it Legal to Use Free Internet at Home Without Paying?
It is obvious that you get this question in your head as people generally do not know of the legal ways to get free internet. Many just assume that this service would definitely come at a cost. To conclude in a few words, Yes. It is absolutely legal to use free internet at home without paying.
This is totally allowed in the United States and all the ways to get free internet at home without paying that are mentioned below are entirely legal. Just make sure to follow the rules mentioned by these various services to go the legal way. Using free internet at home will not be illegal but breaking those rules can be.
How Safe is The Free Internet at Home Without Paying?
Yes, Using Free Internet at Home Without Paying is safe. Most of the WIFI connections are secured with strong passwords and hence cannot be hacked easily. Also, the methods mentioned below do not use any ill methods to use free internet at home without paying.
Best Ways of Using Free Internet at Home Without Paying
Given below are the best ways to get free internet at home without paying. You can try any or all of the below methods to get free internet service at home without paying.
NetZero Internet Provider
NetZero Internet Provider
NetZero is one of the most well-known internet provider services which offer free internet at home without paying. The service has been helping people for more than 2 decades now. NetZero works in a very different mechanism. In order to get free internet, the users will have to dial up NetZero.
You can find different internet deals and plans on NetZero and choose anyone at your convenience. The first deal that you get is absolutely free. However, there is one limitation of using NetZero. The free internet deal will allow the users to access free internet at home for up to 10 hours per month only. So, if you are a heavy data consumer, then this might not be of much use to you.
Juno Internet Provider
Juno Internet Provider
Juno is one other amazing Internet Provider service. Juno offer free internet at home without paying anything for it. Juno Internet Provider does not bind their customers with any contracts and also do not have any obligations. Juno will be an ideal choice for free internet at home without paying if you do not consume a lot of data.
This IP is very similar to NetZero You get an absolutely free internet deal with Juno. And just as NetZero, this one has a few restrictions. One can get their hands on just 10 hours of free internet for every month.
FreedomPop Internet Provider
Another great Internet Service Provider is FreedomPop. Through this wireless FreedomPOP internet provider, one can get free data plans as well as text message plans and minute calls for users. Since the router is wireless, one can use this service easily with convenience and portability.
You can easily take the router anywhere with you. The FreedomPop Internet provider's service depends on various factors like the device used. FreedomPop IP would be ideal if you do not use a lot of data.
WiFi Map
WIFI Map is yet another one of the amazing ways to get free internet at home without paying. For those of you who do not know, WIFI Map is an app that lists all the free WIFI spots nearby you.
You can use this app on your phone to locate the nearby free WIFI and use free internet at home without paying anything. Just note that the free version of this app will give you coverage of a 2.5-mile radius of your location.
EveryoneOn.Org
Another one of the great ways to get free internet at home without paying is through EveryoneOn.Org. EveryoneOn.Org is one such platform that offers free internet to low-income families and less fortunate individuals. Basically, it is a non-profit organization that offers free internet to needy families and people.
This organization is also known to offer free internet to institutions that are unable to afford it. However, all are eligible to apply for free internet from EveryoneOn.Org but the organization definitely gives preference to the needy ones.
Checking Out ALL Free ISP
A few ISPs i.e., Internet Service Providers out there have free internet plans or low-cost internet plans. If you do a little research about the different available ISP options, you might actually find a free ISP.
Thus, you can make use of such a free ISP or low-cost internet plans from ISP. You can simply start with a Google or Bing search to know about a free ISP. You can be more specific by entering your ZIP code or location.
Common paid Internet Providers
If you do not already know, the common paid Internet Provider is a way to use free internet at home. They generally have free or low-cost internet programs that you can use at home. Even if you do not see such advertisements of free internet providers, there are many who offer such service, if not free then at least at low cost.
Neighbor's Wireless Network
If your neighbor has a WIFI connection and you do not want a lot or for a longer time, then you can ask your neighbor to share the connection with you. In case they do not agree, you can pay them a certain amount according to your usage. This may not be entirely free but it will save you a lot of cost of setting up a WIFI router.
Mobile Hotspot
This is one of the best ways to make use of mobile features and mobile data plans. Most of the time the mobile data plans are much cheaper and not everyone consumes all the data for the day. Thus, you can use that data on other devices using the hotspot feature of the mobile.
Using Public WIFI for free Internet without paying by going to Places
If you do not mind going outside for free WIFI then this is one of the best options you have. Nowadays a lot of public places are installing WIFI as a service to their customers. Many coffee shops, fast food centers, and restaurants also offer free WIFI to their customers.
However, at such places, you can of course not go and sit idle. You will have to order something in order to be there. Also, not all the cafes or restaurants have free WIFI so do your research before you enter one with the hopes of free internet. The internet speed too at most of the food joints is good, nearly 25.4 Mbps.
Another public source of free internet without paying anything is Libraries. Most libraries today are digital and offer free internet service through WIFI. Also, a library is a quiet place so you will not have any disturbances that you would otherwise have in a restaurant.
But note that in a library, the internet is limited and secure. You will need a password to access the internet service in a library. This is so as to prevent the outside people from using the library resources. You will be allowed to sit in the library to access WIFI.
Another great option using which you can get free internet services is Airports, Railway Stations and bus stations. Today a lot of such public transport systems offer WIFI service. At airports, passengers do not have to use their own cell phone in between the flights or waiting time. Also, such public transportation places are open 24*7 so all the better.
Apart from the above-mentioned options, also a lot of schools and universities offer free WIFI to the students. You can utilize such facilities of your school. One more way of getting free internet is a free WIFI network in certain cities like San Francisco.
Concluding Words
I hope with the above article you all could easily understand How to Get Free Internet at Home without Paying. Indeed internet is one of the essential things today and a service that should not be limited to the privileged.
In case you have any more options we can use to get free internet without paying, then do let us know in the comment section below. We will be glad to hear from you.
Keep visiting for more such helpful posts!