External Hard Drive vs USB Flash Drive : Which is Better In 2023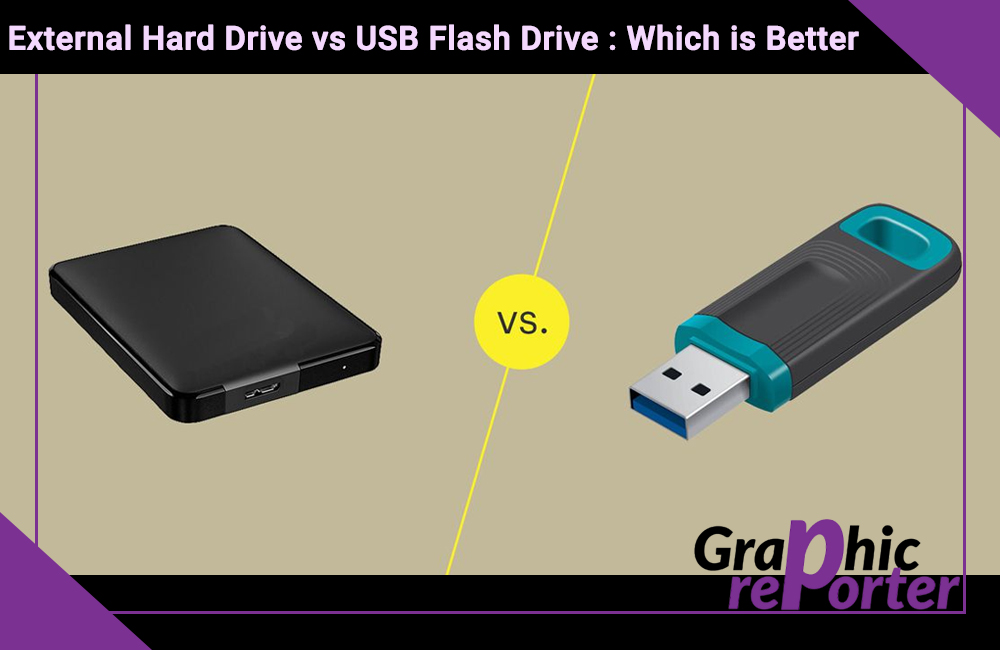 Since the beginning of using computers and laptops, we have been using them as data storage devices. But, in this era, we need more space to store our data. Another reason is also that we need to transfer large files from one device to another, nowadays.
To solve this problem, makers have come up with a drive system. In this, we can store data. There are two kinds of drive available on the market, an external hard drive, and a flash drive.
People are confused to use which one of them. Here in this article, we will learn about both of them and then compare them to conclude the best drive.
What is the external hard drive?
An external hard drive is a device that can be connected to your computer to increase the storage space of your computer or laptop. Unlike the hard drive that's installed in your computer,
an external hard drive is portable and can also be used to store files from multiple devices at the same time. Usually, people use this drive to copy large files from one place to another.
What is a flash drive?
A flash drive also called a thumb drive and pen drive is a miniature high-capacity mobile storage product. 
It does not require a physical drive and uses flash memory as its storage medium. It is also compatible to move from one place or another.
External hard drive vs USB Flash drive: Which one is better?
Here, we will compare both drives on a different basis. Read each of them as per your uses.
Durability
When it comes to life span, the USB flash drive wins because the external hard drives have accurate mechanical parts that are easy to be damaged. When we talk about flash drives, it does not have mechanical parts, so the risk of damaging them is negligible. 
Performance
When you talk about performance then the performance of an external hard drive is better than that of the flash drive. External hard drives are faster when we transfer large data while USB flash drives do not transfer data at that speed. 
Lifespan
External hard drives have a longer lifespan as compared to that USB flash drives. As we know that USB flash drive master does not have wear-leveling technology,
which is an algorithm integrated into the film where the master controller which is available in the external hard drive. This is because the lifespan of an external hard drive is better than that of flash drives.
Speed
The best performer when it comes to speed is none other than an external hard drive. This is because external hard drives are more likely to come with USB 3.0 connectors which help to optimize performance.
There is some flash drive available in the market which is to have USB 3.0 today. But when you will use it in practice then the speed of the flash drive is very low than that of the external hard drive.
Most flash drives have a USB 2.0 connector, in which the maximum transmission that with is 60 Mbps. And when it comes to USB 3.0, the maximum transmission bandwidth is 500 Mbps. 
Capacity
We know that external hard largest capacities that of flash drives. The capacity of the external hard drive is increasing day by day and we should know that the story size available for external hard drive rangers is from 150 MBPS to 4TB.
And when we talk about USB flash drives then the maximum storage that you can get is 512 GB. The information available is stored in the form of bits on the semiconductor material.
You should know that the smaller capacity of the USB flash drive is because it uses TLC memory particles. While the external hard drive usually used MLC memory particles or even they can use SLC memory particles. 
Price
When we will search for the price of Bajaj then you will find that place of an external hard drive that of less price. The price depends upon manufacturers as capacity, performance, durability, lifespan, and more. 
These are the different aspects on which we have compared the USB flash drive and the external hard drive. Depending upon your uses and concern you can choose any one of them. 
FAQ (Frequently Asked Questions)
Here below, we have answered some of the frequently asked questions regarding external hard drives and flash drives. Read each of these questions one by one to know more about them.
Can we choose an external hard drive if we are transferring minimal data?
It depends upon the type of d Aaj USB flash drive good for backup data and your concern of yours that if that data is important to you or not.
Because, when you will transfer data us with a flash drive then after a long period, the flash drive will not show that much performance and may lose your data.
That is why you should always use the external hard drive to transfer data which are important to you. 
Is a USB flash drive good for backup?
Both, the external hard drive and the USB flash drive or good for the back of your files pictures, and other data.
When it comes to choosing one, which is a better external hard drive or flash drive?
We can say that both the drive are great for data storage. External hard drives have a larger capacity quicker transfer speed and a longer lifespan than a flashlight.
Compared with an external hard drive, flash drives are easily portable. Now you can get larger USB flash drives on the market. 
Last words
In this article, we discussed external hard drives and flash drives. We learned what are the definitions of these. Then we saw a detailed comparison between them.
After that, we answered some of the questions regarding this article. If you have any questions or queries regarding this article, do let us know in the comments section.
We will answer as soon as possible. Thank you for reading this article.