Is MetroPCS GSM or CDMA Carrier? A Comprehensive Guide In 2023
In this article today, we will be sharing with you all the answers to one of the most common questions – Is MetroPCS GSM or CDMA Carrier? If you are someone who is willing to switch to MetroPCS but are confused whether it is a GSM or CDMA network carrier. In addition to this, many of you might also be thinking which is better – GSM or CDMA for MetroPCS phone. 
So if you have any more doubts about MetroPCS network carrier, GSM, CDMA, 4G LTE, etc. then do not worry as all of your questions will be answered in this article.
For those of you who do not know, MetroPCS is a prepaid wireless service available in the United States of America. The service from the T-Mobile initiative brings some of the best data, call, and text plans for the customers.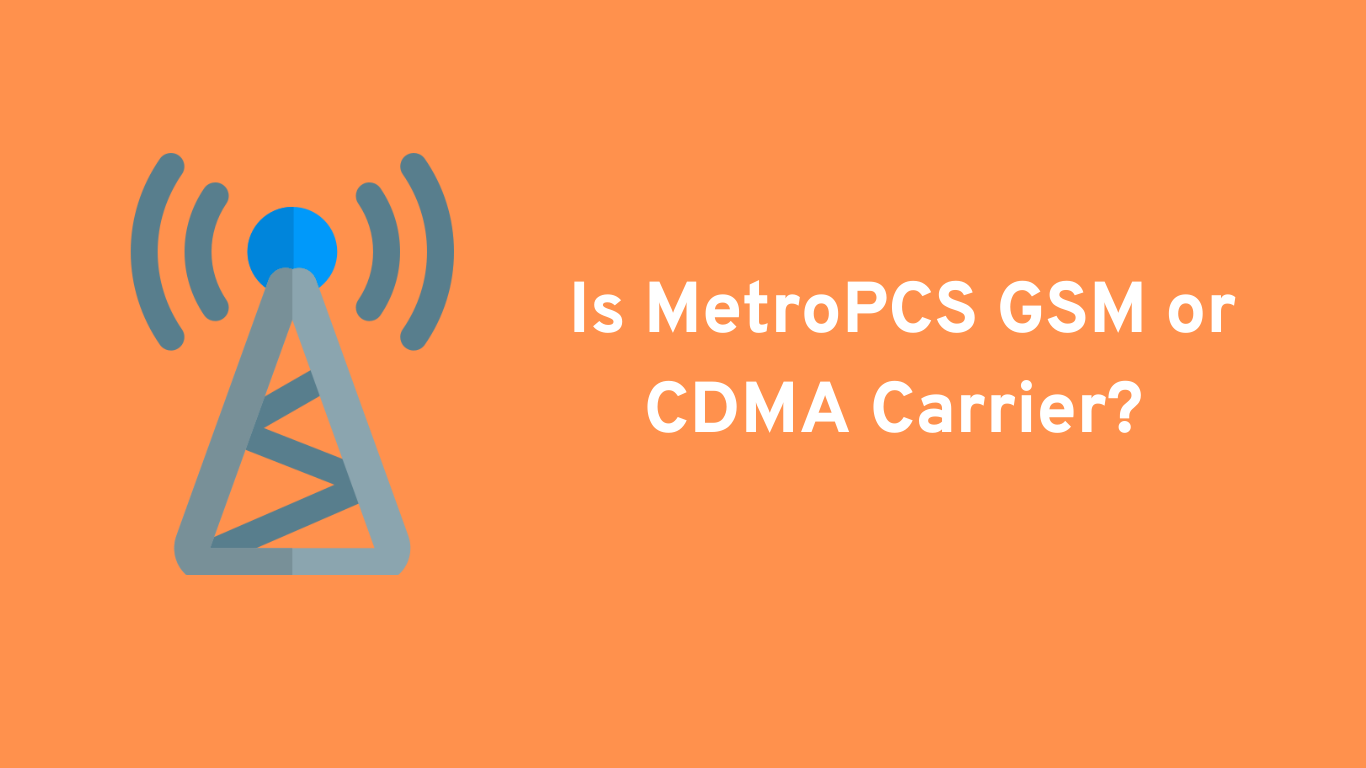 Metro is also known for its affordable and cheap services that are like monthly rentals and much cheaper than general network service provider's fees. Plus, there are various plans to choose from as per the convenience of the customer.
So, if you are thinking to shift to T-Mobile's MetroPCS, then keep reading further for all the required information.
Types of Mobile Phone Technology
There are various mobile phone technologies of a network like 4G LTE,  CDMA, GMS, etc. These 3 are the most widely used and known technologies. Nowadays, most of the devices, even the ones made by Google, Apple, Samsung, etc. come with support for all the types of phone technologies.
GSM – GSM stands for Global System for Mobiles. GSM phones make use of SIM Cards to link a device with its network.

CDMA – CDMA is an abbreviation for Code Division Multiple Access. CDMA phones do not require a SIM card to work as the phone is already linked to the network.

4G LTE – This is the most widespread network and allows 4G Services through their platform.
Many people often question – is MetroPCS a GSM or CDMA. When a person is asking this question, what they actually mean is if MetroPCS uses a SIM card to operate or not.
Since the GSM network uses a SIM Card, it is easy to put the SIM in another phone or any other SIM in place of the GSM Network. This gives the user the flexibility to change the phone network.
But since CDMA phones do not use a SIM card, it becomes difficult for them to change the phone network. As a result of this mess, most of the phone companies are now shutting off the CDMA Network as it now has become old technology.
Also, with the 5G network on its way, many phone companies are also shutting down their 2G GSM networks. When it comes to the changing technology, there is no sense for companies to keep using obsolete technologies like 2G, CDMA, etc. And when we compare the two, GSM offers a better service due to the wide compatibility of phones.
Is MetroPCS GSM or CDMA
Is MetroPCS GSM or CDMA Carrier?
Assuming that you have read the above section carefully and know what CDMA, GSM, and 4G LTE are, you can now get yourself the answer for is MetroPCS a CDMA carrier or not. Both GSM and CDMA offer the same service but with the new emerging technologies, the quality of the former can be seen drowning.
So to answer your question Is metro by Tmobile GSM or CDMA, the answer would be GSM. A lot of companies like Sprint and Verizon used to use CDMA but are now shutting it down because of the better alternatives available.
About 6 years ago, MetroPCS shut down the CDMA network. And since then MetroPCS is a GSM carrier network. Hence, the phones that depend on CDMA networks will not be compatible with T mobile services anymore.
Hence, if you are looking forward to getting a MetroPCS service, then you will need to have a device which is compatible with GSM network. Generally, most of the OEMs in the market are now manufacturing GSM-compatible devices.
But if you have a CDMA compatible device, then do not worry but do shift from this device to other to keep up with the technology. Using a GSM-compatible device will give you many more advantages than using a CDMA device.
In order to have a MetroPCS compatible device, it needs to be compatible with all the frequencies used by MetroPCS like  1900MHz (3G), 1700 Mz (4G), and 700MHz. Keep reading further to know how to unlock MetroPCS phone.
GSM Vs CDMA – Which is better for MetroPCS Service?
A lot of people often question if – Is Metro phone CDMA or GSM. Certainly, they want better service from CDMA and GSM for their Metro by T Mobile.
As has been already mentioned, MetroPCS is now entirely turning into GSM and other new phone technologies. This implies that there is something better in GSM than CDMA when it comes to Metro phones.
However, this does not mean that there is a huge difference between the two. Both CDMA and GSM have the same functions. But, for the flexibility it offers to the customers, GSM stands out to be the better choice between GSM and CDMA.
The drawback of CDMA phones is that they are linked to single carriers and can't be transferred as CDMA does not use SIM Cards to link with the network.
So, if someone wants to switch the network company with CDMA, they will have to actually change their device for this purpose. However, this is not the case with GSM network. With GSM, you can easily change the SIM card and you will be done right there.
Requirements to Unlock a Metro Phone
When it comes to unlocking a phone, most wireless carriers have some complex processes involved. However, in this case, MetroPCS is much better as its unlocking process is quite simple. In order to be eligible for unlocking MetroPCS phone, your device should be able to meet the below requirements –
Since Metro cannot unlock devices from other carriers, your device should be a MetroPCS phone or Metro by T-Mobile.

To receive the phone unlock code, you need to have an active email address.

The device has to be active for at least 180 days consecutively from the date of its original activation. In case of a replacement, do not worry as the original activation date will be considered for the 180 days rule.
How do I Unlock a Metro Phone?
If you are looking forward to unlocking a metro phone, then here are the steps you will have to follow. Note that some devices need to download an unlock which is specific for those devices. However, for the other devices, you will need some help unlocking.
Some mobile phone companies help users unlock the device using an app. Some of such devices are Motorola E4, Samsung Core Prime, HTC Desire, and so on. If you have any such device, then the process is very simple provided that you have good internet connectivity.
But your phone is not one of the above-mentioned models, or if you have an iPhone, then you will have to contact the customer service team to ask them about the steps to unlock the Metro phone. They will assist you further.
Steps to Unlock a Metro Phone for Military People
The rules to unlock a metro phone are much easier for Military people of the US. One relaxation here is that military people are not required to follow the 180 consecutive days rule to be eligible for the program. The steps to Unlock a Metro Phone for Military People are as follows –
Military Proof – You will be needed to show your deployment papers as military proof to the service store.

Submit other credentials like phone details and so on as asked and required.
The process to unlock a metro phone is quite easier for military personnel. All they need to submit is their military proof and email ID. The service center will take care of all the other proceedings.
Frequently Asked Questions
What is a GSM Mobile Phone?
GSM stands for Global System for Mobile Communications. Likewise, the GSM mobile phone is a device that can be connected to the entire world using cellular calls.
What phones can be used on MetroPCS?
Any unlocked GSM phone can be used on MetroPCS. Earlier MetroPCS used to accommodate only CDMA networks but after the merger, now it also supports the GSM network.
What Is the Charge of MetroPCS for Activating the Phone?
So, here is the good news – MetroPCS does not charge any activation fees from the customers. But if you want to switch from MetroPCS to any other network, then you will be required to pay a fee of $15 to them for their service.
How do I check if my phone is compatible with MetroPCS?
You can check if your phone is compatible with MetroPCS or not by checking its IMEI Number.
Can I put my MetroPCS SIM Card in another phone?
Yes, you can put your MetroPCS SIM Card on another phone. All you need to do is activate the SIM Card on your new phone.
Can I activate a MetroPCS Phone online?
Yes, it is possible to activate a MetroPCS Phone online. Other ways using which you can activate a MetroPCS Phone is by visiting the nearest store or calling on 1-888-863-8768.
Will a MetroPCS CDMA phone work on a GSM Network?
Unfortunately, no. A MetroPCS CDMA phone would not work on a GSM network as the phones generally run on varied frequencies. But, there are some phones that run on both technologies. Google Nexus phones, iPhone 8, iPhone 8 Plus, etc. are a few to name.
What Is the Network Coverage of GSM?
CDMA offers a wide network coverage as it provides a smoother user experience to large users. In comparison, the GSM networks offer less network coverage but it does not mean that GSM is disadvantageous.
Is There Any Phone That Has Both CDMA and GSM?
Yes, there are a few phones that are compatible with both GSM and CDMA. Motorola X Pure, Moto G4, Motorola Droid Turbo 2 are a few to name.
Concluding Words
That was it all about MetroPCS. I hope by now you have got an answer to your question – Is MetroPCS GSM or CDMA Carrier?
In case you have any more questions or want to share anything with us, or want to get more information about the networks, then feel free to leave a comment in the comment section below. We will be glad to hear from you.